Where to sell my used or broken iPhone for cash? Expert's Guide
Oct 24, 2023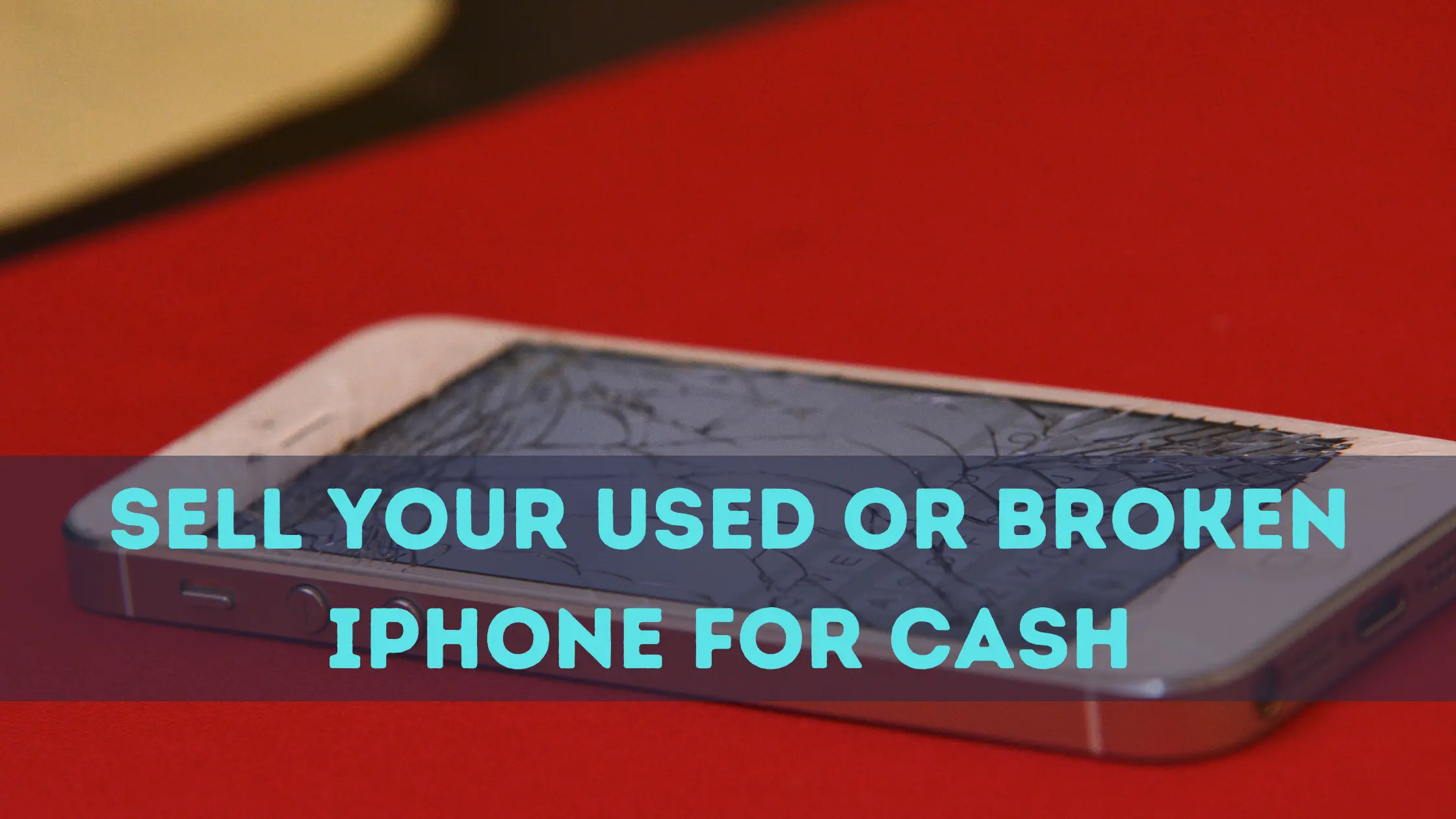 Have an old iPhone collecting dust in your drawer? Or perhaps you dropped it one too many times and now it's nothing more than a shattered screen? Don't worry, there's still hope for your beloved device.
In this article, we will explore the top places where you can sell your used or broken iPhone for cash.
Whether you're looking to upgrade to the latest model or just want to make some quick money, these options will ensure that your once treasured gadget finds a new home while putting some extra money in your pocket.
Why Sell Your Used or Broken iPhone?
Before we dive into the specifics of where and how to sell your iPhone, let's understand why it's a smart move.
Decluttering and Earning Cash: Used or broken iPhones take up valuable space in your drawers and might be gathering dust. By selling them, you not only declutter your living space but also earn some extra cash.
Environmental Benefits: Electronic waste is a growing concern worldwide. Selling your iPhone contributes to a healthier environment by allowing it to be responsibly recycled or refurbished.
Factors to Consider Before Selling Your iPhone
Before you jump into the process, there are a few factors that you should consider.
Condition of Your Device
Used or Broken: First and foremost, think about the condition of your device. Is it still in good working order? Are there any physical damages or software issues that could affect its saleability? Potential buyers will want to purchase an iPhone that is in excellent condition, so take some time to evaluate it before listing it for sale.
Age of your iPhone: Technology advances at a rapid pace, and what was once cutting-edge may now be outdated. Take into account the model and year of your device when determining its potential value on the resale market. If your iPhone is several years old, it might not fetch as high a price as newer models.
Knowing the iPhone Model and Specifications: Understanding the specific model and specifications of your iPhone is essential. This information helps potential buyers or trade-in services determine the value of your device.
You can find your iPhone's model by navigating to "Settings" > "General" > "About." Look for "Model" or "Model Number" to identify your device's model (e.g., iPhone 12, iPhone XR).
Note down any specific features or specifications your iPhone may have, such as storage capacity (e.g 64GB, 128GB) and color.
Backup and Data Removal
Before you part with your iPhone, it's crucial to safeguard your personal data and ensure it's backed up securely.
Backing Up Your Data: Backing up your data is essential to prevent data loss. Apple offers a convenient backup solution through iCloud or iTunes. Here's how:
iCloud Backup: Go to "Settings" > [Your Name] > "iCloud" > "Backup" > "Back Up Now." This will create a backup of your data in your iCloud account.
iTunes Backup (for Windows or macOS Catalina and earlier): Connect your iPhone to your computer, open iTunes, select your device, and click "Back Up Now."
Clearing Personal Information: Protecting your privacy is paramount. Ensure you remove all personal data from your iPhone before selling it. Here's how: Go to "Settings" > "General" > "Reset" > "Erase All Content and Settings." This will wipe your device clean, restoring it to its factory settings.
Sign Out of iCloud: Don't forget to sign out of your iCloud account to disassociate your device from your Apple ID.
Unlocked vs. Carrier-Locked iPhones
Understanding whether your iPhone is unlocked or tied to a specific carrier can have an impact on its resale value and potential buyer base.
Unlocked iPhone: An unlocked iPhone is not tied to any particular carrier and can be used with any carrier that supports the iPhone. Unlocked iPhones tend to have higher resale value because they offer flexibility to buyers.
Carrier-Locked iPhone: A carrier-locked iPhone is tied to a specific carrier, meaning it can only be used with that carrier's network. If your iPhone is carrier-locked, you may need to unlock it through your carrier before selling it. This can broaden your pool of potential buyers.
Where Can I Sell My Used iPhone?
Now that you've assessed your iPhone's condition and prepared it for sale, let's explore the various options available for selling your used iPhone.
SellMeLaptop as a Reliable Option
When it comes to selling your used iPhone, SellMeLaptop stands out as a reliable and trusted buyback service provider. We take pride in offering a seamless and secure experience for our customers.
Easy and Transparent Process: Our straightforward process simplifies the selling experience. Get an instant quote, ship your device to us, and receive payment quickly.
Competitive Prices: We offer competitive prices for used iPhones, ensuring that you receive the best value for your device.
Trustworthiness: With a strong reputation built on trust and reliability, SellMeLaptop has been a preferred choice for individuals looking to sell their electronics.
Convenience: Our online platform allows you to get a quote and initiate the selling process from the comfort of your home.
Security: We prioritize the security of your data and offer a safe and secure transaction process.
Prompt Payment: You won't have to wait long to receive your payment once we receive and assess your device.
Other Popular Options
In addition to SellMeLaptop, there are other popular options for selling your used iPhone:
Online Marketplaces (e.g., eBay, Craigslist): Online marketplaces provide a platform for you to create listings and sell your iPhone directly to potential buyers. However, be prepared for the responsibility of managing your listing, negotiating prices, and handling shipping.
Trade-In Programs from Apple and Carriers: Apple and some carriers offer trade-in programs where you can exchange your old iPhone for credit toward the purchase of a new one. These programs are convenient, but the trade-in value may not always be the highest.
Local Electronics Stores: Some local electronics stores may buy used iPhones. While this option offers convenience, the price you receive may vary between stores, and it may be lower compared to online options.
Where Can I Sell My Broken iPhone?
When it comes to selling your broken iPhone, you have several options. Let's explore them in detail.
SellMeLaptop's Acceptance of Broken iPhones
At SellMeLaptop, we understand that iPhones can suffer various types of damage. We accept iPhones with a wide range of issues, including but not limited to:
Cracked Screens: Whether it's a minor crack or a shattered screen, we accept iPhones with screen damage.
Water Damage: If your iPhone has been exposed to water or moisture, we evaluate its condition.
Software Issues: iPhones with software glitches or operating system problems are also accepted.
Hardware Malfunctions: Whether it's a malfunctioning camera, speaker, or other hardware components, we consider all types of hardware issues.
SellMeLaptop's Evaluation Process
Our evaluation process for selling your broken iPhones is straightforward and designed to provide you with a fair and competitive offer. Here's how it works:
Submit Your Device: Start by requesting a quote on our website. Provide details about your broken iPhone, including its model and a description of the damage. Then you will receive an instant quote.
Shipping Your Device: Once you accept our initial offer, we'll provide you with shipping instructions. Safely package your iPhone and send it to us.
Assessment: Our team of experts will carefully assess the extent of the damage and evaluate the overall condition of your iPhone.
Payment: You'll receive the payment quickly through your preferred method, ensuring a hassle-free transaction.
Other Options for Selling Broken iPhones
Repair and Sell Privately: Another option for selling your broken iPhone is to repair it and then sell it privately. However, this approach may involve additional time and costs for repairs. It's essential to weigh these factors against the potential resale value of your repaired iPhone.
Online Platforms Specializing in Damaged Devices: Several online platforms cater specifically to damaged devices. These platforms connect you with buyers who are interested in fixing and reselling broken iPhones. While this can be a viable option, keep in mind that the final selling price may vary based on market demand and the extent of the damage.
Easy Selling Process to SellMeLaptop
Let's delve into the step-by-step guide to selling your iPhone to SellMeLaptop, ensuring a smooth and convenient experience.
Step-by-Step Guide to Selling Your iPhone to SellMeLaptop
Get Instant Quote

Visit the SellMeLaptop website.
Enter your iPhone model.
Describe the condition of your device, including any damage or issues.
Receive an instant quote based on your description.

Complete Shipping Form & Receive Confirmation Email

If you accept our initial offer, you will have to fill up a shipping form. After that, you will receive a confirmation email.
You'll also receive shipping labels and information on how to send your device to us.

Evaluation and Payment Process

Once we receive your iPhone, our experienced team will assess the extent of the damage and evaluate its overall condition.
If the condition matches with your provided quote, you'll receive payment promptly through your preferred method, ensuring a hassle-free and secure transaction.
Customer Testimonials and Success Stories
Don't just take our word for it—read our customers' testimonials and success stories by visiting our Google Business Profile or our website, to see why Sellmelaptop is the preferred choice for selling iPhones. Our satisfied customers have shared their positive experiences, highlighting the ease of the process, competitive prices, and prompt payments.
Tips for Maximizing the Value of Your Used or Broken iPhone
To maximize the value of your used or broken iPhone, consider the following tips:
Cleaning and Cosmetic Touch-Ups
Give your iPhone a thorough cleaning to make it more appealing to potential buyers.
Consider minor cosmetic touch-ups or repairs to improve its visual condition.
Providing Complete Accessories
Include original accessories like chargers, headphones, and the original box with your iPhone.
Complete accessories can enhance the overall value of your device.
Timing Your Sale Strategically
Stay informed about market trends and the release of new iPhone models.
Timing your sale when demand is high can help you fetch a better price for your device.
Ensuring Safety When Selling Your Old iPhone
When selling any used device, it's crucial to protect your personal information and ensure a safe transaction. Follow these essential tips for a smooth and secure sale:
Securely backup your data and restore your iPhone to factory settings.
Remove personal information and deactivate any accounts linked to the device.
Research the reputation and credibility of potential buyers or platforms to avoid scams or fraudulent activities.
Frequently Asked Questions (FAQs)
Who buys broken iPhones near me?
You can explore buyback services near your location that specialize in purchasing damaged devices.
How much are broken iPhones worth?
The value of broken iPhones may vary depending on factors like the degree of damage, age, model, and current demand for spare parts.
Is it safe to sell my old iPhone?
Selling your old iPhone can be safe if you take the necessary precautions. Backup your data, remove personal information, and research the reputation of potential buyers or platforms.
What is SellMeLaptop's broken iPhone selling page?
To sell your broken iPhone securely and conveniently, visit our broken iPhone selling page at https://www.sellmelaptop.com/sell/phone/apple/.
Conclusion
Selling your used or broken iPhone doesn't have to be a daunting task. By understanding the value of your device, exploring local and online options, ensuring safety during transactions, and implementing value-maximizing tips, you can successfully sell your iPhone while getting the best possible deal. Remember to follow our recommended guidelines and explore SellMeLaptop's broken iPhone selling page for a secure and straightforward selling experience. Dispose of that old device responsibly while putting some cash in your pocket!