Reasons For Selling Sony Vaio Laptop
Dec 28, 2015
Enough time has passed since Sony laptops have made their mark in history, and have gone out of it. The company has sold this part of the business to investment fund JIP. Of course it was sad, but overall anticipated event. The difficult situation in the market, a number of negative factors affecting the Japanese economy and unprofitable activities of the company became the reasons of this event. So it isn't surprising that you are thinking about selling Sony VAIO laptop. This's a very interesting technique, both in terms of aesthetics and technical capabilities. But it's time to replace your old gadget and get rid of your old device on favorable terms. Want to know why? Read more.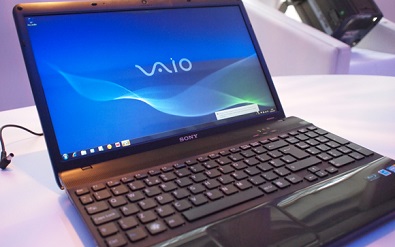 Ups and downs
There been times when Sony laptops were considered the benchmark technology and style, providing its users a unique combination of characteristics. However, like other Japanese technique they cost a lot. But everyone knew for what he pays this money. VAIO has always been famous for the following things.
Firstly, the flagship laptops have always been thin and light for its time. Small computers with Windows, having a modest size and good autonomy - they are ahead of the trend. Business people greatly prized this combination.
Secondly, Sony laptops have always been high-end: innovative materials, new technologies, unusual interesting possibilities, modern platform. However, at that time it was considered a feat to shove existing components of mobile platforms in a thin, light casing and ensure a decent the battery life. And the VAIO repeatedly proved its status as one of the leaders.
Thirdly, phrase "legendary Japanese quality" has lost its meaning today. In the heyday of Sony VAIO laptops really offered much higher quality of materials and workmanship, which allocates them on the market and create the necessary image.
However, all these advantages the company has lost with time. Little by little all laptops became more thin and light, and with the release of new, more fuel-efficient platforms growing autonomy of work. Technology becomes more widespread and distributed on the market. The level designs, quality of materials and workmanship and overall reliability have been increased. It happened that the difference between Sony products and competitors models became unprincipled.
New laptop or old technology laptop?
So, the old technology potential Sony VAIO laptops for several years have been exhausted. But the problem isn't only in technology but also in the right promotion. It's funny to note that most of the technological advantages of Sony, thanks to which it gained its reputation in the market, successfully picked up by Apple company and used in its laptops. It's with Apple Sony for a long time trying to compete as "the only premium brand." In general, the company doesn't take active steps and lost potential. At this time, a place that kept Sony, firmly occupied by Apple.
Sony's new ownership and goal
General poor performance and inefficiency of the reforms forced the company to take the tough decision to get rid of unprofitable assets and they sold Sony VAIO laptop. The new owner was the fund Japan Industrial Partners, Inc. This's a Japanese investment fund specializing in investments in industrial companies. One of the goals of JIP is to help Japanese companies going through difficult times, including by optimizing costs.
Sony VAIO certainly were a symbol of the quality of their time, but they weren't ideal. They had many of its features and drawbacks. Often, it was:
low reliability (for example, SZ-series);
problems with the stability of the housing (first Z-series);
traditional for Japanese gadgets complexity of disassembly;
strong heating, cooling fan noise;
complicated procedure to install drivers (most people couldn't cope with it);
serious litter of unnecessary software.
But if you observe the rules of operation, these devices typically don't break, of course, if there're no factory defects which, although rare, but still occur, as well as on any other portable computers. But if a repair is required, it will cost quite expensive and the decision to sell Sony laptop is becoming the most correct. According to statistics, most Sony laptops repair is performed after various types of damage, such as:
matrix splitting;
liquid spilled on the keyboard or motherboard;
failure of hinges and the laptop case;
burnouts contacts and breaking the power supply;
deformation board from overheating, etc.
VAIO is coming back
Reasons to sell your old laptop can be quite a lot, but one of the main it's the constant updating of the market more powerful and original new products. Of course in 2015, VAIO isn't a part of Sony and we cannot rely on the experience and reputation of the company, but you should be aware of two new products - VAIO Z and VAIO Z Canvas.
At first glance VAIO Z doesn't differ nothing special. But this device belongs to a class convertible. Display as though "separated" from the lid, which makes it possible to position it on the outside. The casing is made of aluminum alloy and reinforced by carbon fiber. This led to a thickness of 16.8 mm at a weight of 1.34 kg.
Due to certain technologies has managed to place in the device battery, the capacity of which will be enough for 15 hours of battery life. The company draws attention to silent keyboard. The cost of the device in its minimum configuration will be about $1,600. If we talk about the model of VAIO Z Canvas, it is rather a hybrid tablet. That is why we'll talk about it next time.
Sony laptops have always stood out high level of quality. Excellent casings and keyboard combined with interesting stuffing attracted attention. But most importantly, these devices have always been unusual and beautiful. But the problem is that the significant advantages very often go side by side with the weighty disadvantages. Recent events and complicated repair of units have become a crucial point for many users. Sell Sony VAIO laptop can be for good money. This is a real chance to partially reimburse your cost of buying a new device. Will this VAIO Z or any other laptop we don't know, because only you can make a choice!