Sell Broken Laptop For Cash Here!
You want to sell your broken laptop but you don't know whether it is worth some money or now. Meaning, is there a sense to sell laptop by parts? It can be difficult to decide, especially if you have a good pile of old computer equipment at home, broken laptops, some of which are probably only valuable to people who really want them. So, your target is to find the people who need your old laptop or its separate parts. Why? Maybe, they need your broken equipment to repair the systems they use or just love old technology. It doesn't matter. The matter is you can find the right place for your old gear.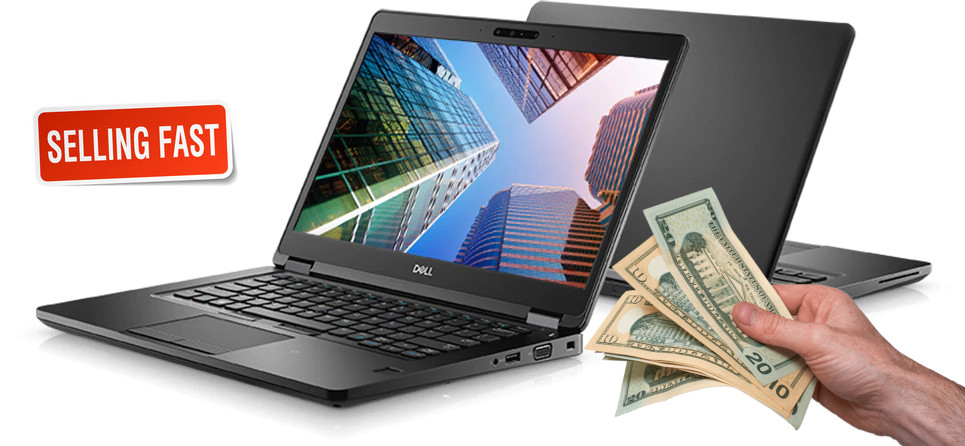 Sell It On Online Forums
Depending on how recent your parts are, there may be people who want to buy them. But, instead of heading to Craigslist or eBay, the first place you have to try to catch your luck and sell broken laptop is a hardware-based forum with a dedicated selling section. It can be something like Hard Forum, Overclock.net Marketplace, or something like that available in your country. Lot of people has already had good luck selling their old broken technics there. Also, you can buy needed parts for your technics on forums like this.
Sell Your Old Parts To Computer Club
If you don't know about such a group in your city, it definitely exists. This is a special organization or computer club where local users gather together, discuss, trade parts, and share knowledge. Many of those clubs are long gone, but some still exist online. You may use Craigslist or Facebook and search for local computer clubs or user groups in your area. You will definitely find some. Just think, this is a perfect environment where you may be able to offer up your old components directly to an audience that are ready to make use of them, who have old systems to repair or upgrade, or who may just want the components in their own parts collection.
Sell to Electronics Recycler
Another solid option is to find a computer recycler or component reprocessing company that's willing to buy your old gear. How about Sellmelaptop or Laptopnuts? How much you'll actually get back varies depending on the type of electronics you're trying to offload, but most of these recyclers and reprocessing companies are really interested in buying your laptop component parts. For that reason, you should take care to make sure the company you choose is not only willing to give you a decent price for your gear, but promises to do the recycling in environmentally-friendly manner. Still hesitate which company is worth your attention? Open the yellow pages and look around, or hit Google for local companies near you are not just big websites that promise to pay you more and send you boxes to ship your gear in.
Check Your Local Hackerspace
What does Hackerspace mean? This is another place where people often need or make use of old electronics and sell broken laptops, PCs, cellphones. Even if you're not a member the space, they may be interested in your old electronics. In some cases, they're betting that their members are less interested in the actual devices you may have and more in their components, but in other cases your old equipment may be useful and compatible with machinery, diagnostic equipment. It is not a secret that many spaces have old equipment for which there are no upgrades available. It can be out of date and no components can be found. So, your running or broken old laptop is worth keeping around.
Visit Local Schools, Libraries
Schools, libraries, and local governments are all usually willing to accept donations, but not necessarily sales. You may have to jump through some legal or registration hoops in order to sell old equipment to a school or library, even if you have a garage full of stuff, so be ready for that if that's the avenue you want to take. Many schools, government offices, and other organizations have old equipment. Yeah, they use old software they can't afford to replace. That's sad to hear but you can try to sell old laptop for cheap. Don't worry, they are ready to spend a few bucks for old PCs they can keep for parts to repair critical systems.
Of course, this is not your best option for you. You can't make good money on such a deal. But if you can't find a customer for your old gear, think of donation. Donations are a better option here, because you'll get a tidy tax deduction for the market value of the item you're donating, which can add up to real money at tax time.
Craigslist/eBay or Donate
They're not the options that you probably wanted to hear from the get-go, but eBay and Craigslist both have are available to sell old broken laptop. Of course, these sites are not specialized in trading laptops only. Still, many people looking for old computer parts head to eBay first, so it's a good bet to try and sell your item there. All you need is to make a description of your old machine, an eye-catching photo, a well crafted listing, and some savvy timing can net you big bucks.
Finally, there's always the option of donating your old gear to a school, library, or charity. You won't make any money this way, but you will get a tax deduction for your donation, and depending on how much you have to get rid of, it's easier and less hassle than trying to find somewhere to pay you a few bucks for your old IDE drives, SCSI adapters, or parallel port peripherals.
Hope, these advises are useful. Anyway, you have a couple of options to look into. With luck you'll be able to score a few bucks for your old broken laptop, and if not, you may be happier you took the donation option when it comes time to do your taxes.