Sell Your Apple Products And Always Be In Pocket
Dec 29, 2016
This is not the article about experience when you are going to present your old computer or telephone to your wife, kids or relatives. This is about your strong desire to sell your Apple products. Read this article as real step-by-step instruction, based on personal experience of selling iPhones, iPads and other old i-devices.

Step-by-Step Instruction
Step 1
Find everything that is related to your laptop: package box, cables, charging, documents, cheque, and other accessories. It is not a good idea of using old accessories for new gadget. The more details you find, the higher price may be. The difference between complete package technic and particles can be about $100. All documents you are giving, confirm that your i-device was not stolen, but legal and safe to buy. It is like additional advantage to sell your Apple products for good cash. Oh, never be greedy! Try to sell everything that is related to your old gadget: additional cables, gel skin, laptop bag.
As a matter of fact, full set can make the price for your gadget higher, attracting more and more people to your i-device. There are many people, who do not want to buy accessories from different places. It is going to be great idea give something for present. In short, find everything that can be interesting for one or another potential customer as additional bonuses.
Step 2
Prepare you i-device to be attractive and comfortable for new owner. It means that you have to:
Create reserve copy of your gadget in iCloud or iTunes;
Delete your personal information, contacts, photo and programs;
Back off i-device and your personal Apple ID;
Shut off Apple ID and Game Center in iOS settings.
IMPORTANT! Never use reset or discard.
Do not be in a hurry to renew and upgrade laptop functions up to the latest version iOS. It takes you just few minutes. Nevertheless, you cannot get everything back after all.
Step 3
Put your device to order. In short, you should clean your device, removing dirt and sticky mud and other pollutions. Clean up corpus and keyboard buttons. If you want, you can replace and renew all damaged details.
Just think: it is more pleasant to buy clean and shiny laptop. Good and shiny laptop can help you to make price higher. In case if your iDevice has damaged components, there is always a sense to replace them all. Everything depends on price for repairs. For example, if your iPhone 4/4S has cracked corpus, you can buy new cover for $6-10 and replace it, using simple instructions. So, there is no need to cash laptop for cheap. Nevertheless, if one-piece corpus of your iPhone 5 or iPad was cracked, it is better to put lower price than spend money for repairs. No two times are ever the same. Some people pay less attention to appearance, but prefer buying for cheap.
Trade-in Sales
You know everything about Trade-in. This is not a new opportunity in the market, but always attractive proposal. In short, this is great chance to exchange your old device for new one. This is a popular service of many shops, supermarkets, service centers. It is enough to bring your iPhone, iPad or component parts to buy-up company, the price for your gadget will be established immediately to be taken out from the new price for new device that you want to buy. Trade-in program is good chance to trade different devices: phones, laptops, computers and other Apple technic.
Advantages:
The deal is going to be fast, one day or one hour;
Do not need to look for your clients and try to sell salt to a slug;
Never afraid to be failed;
Good chance not only to cash old laptop, but buy new one;
Get bonuses, sales and discounts.
Disadvantages:
Price is not too high, not higher than private dealing;
Your request can be declined because of lack of information, documents;
It is important to buy from that shop, where you are going to trade your old or broken laptop;
You cannot take money and buy new device somewhere else.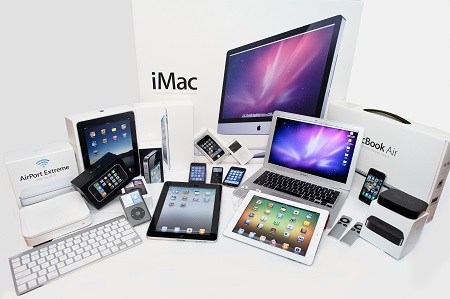 Sales from the Internet
If you decided to cash your laptop in another way, you can sell it online. Forget about magazines, markets and shops. Internet is the best trade platform. It is good start for you! If you have enough time, you can try. Of course, the money your get in result of you online deal can be big.
The main point is putting adequate price. Do not make it too high or too low. Try to answer all questions about your device and give comments. Contact to your potential clients and try to make them to buy your gadget. Be wise and patient. Do not make long dialogues: be short, concrete and friendly. Never make wrong steps and resort to cunning. It is better to show your device as it is.
Advantages:
You can sell iPhone, iPad or iPod Touch for good budget;
The choice of potential clients is more than wide;
You can have great trade experience and start your trade career online;
You can avoid personal contacts to potential client;
The most of i-shops are safe to be comfortable for clients and customers.
You don't have to worry to clean laptop. The buyback shops do all the cleaning themselves
Disadvantages:
You have to spend more time to get profitable deal;
Nobody knows how much it takes you to wait for your client;
You have to be attentive and follow trade rules to sell your Apple products as fast as possible;
Maybe, it is necessary to have private meeting or delivery laptop to another city, state, country;
There is no guarantee that you deal is legal and your buyer is decent all round.
Do not be afraid. Online sales is new life standard. This is the future of all trade relations. Millions of people all over the world have their strong online relations in trade sphere, trading with technic, clothes, furniture and anything you say. They have advantages. You can trade not only with Apple products but different computer devices. Be honest to yourself and your clients.